All orders placed between 10/6 and 10/11 will be held as we are doing end of season inventory, please allow for the extra time when placing your orders.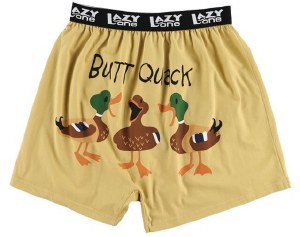 Butt Quack Boxers - Medium
Item Number: 82514703
$14.99 $9.99 $5.00
Product code: 82514703
Tan colored adult boxer.Front has one button fly and Alaska in brown down on the left leg. On the back is a large design of 3 ducks done in brown, green, gold, blue, orange and white. it says Butt Quack. 100% Cotton.