Tongass Trading Company has a long history of providing Alaskan's with the equipment needed to work smarter and play harder. Since 1898 we have been proud to supply our community with exceptional products that make life easier in this beautiful, but rugged land. We look forward to supplying you with the gear you will need for your Alaskan adventure. Stop by one of our stores and pick up some authentic Alaskan souvenirs and gifts at remarkable prices. Our team looks forward to meeting you on your trip to the last frontier. We're also a featured destination in Ketchikan with Alaska Shore Excursions.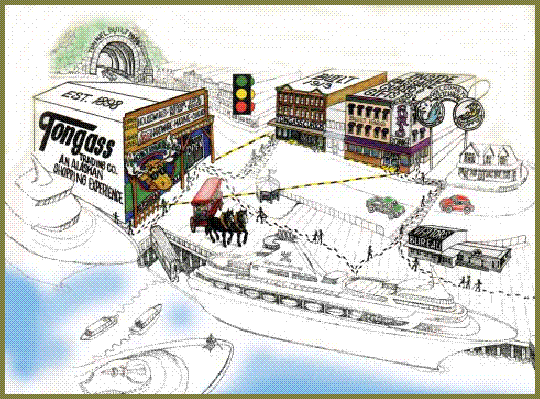 Founded in September, 1898 as "Strong & Johnstone Co." by Ketchikan pioneers Henry C. Strong and Frederick C. Johnstone, it was renamed Tongass Trading Company in 1900, and incorporated in October, 1901. At the turn of the century, Tongass Trading Company supplied the miners and mining camps throughout Southeast Alaska. In the 1920s, 1930s and 1940s, Tongass Trading Company provided supplies, gear and storage to the commercial halibut fishing fleet, as well as household goods, clothes and groceries to local residents. In the mid and latter part of the 20th century, Tongass also supplied the booming logging camps of Southeast Alaska.
Through the years, Tongass Trading Company has kept pace with progress and the changing industries of Alaska. Today, Tongass Trading Company supplies commercial and sport fishing gear, hardware, furniture and clothing to industry and residents of Southeast Alaska. Additionally, Tongass Trading Company is a popular stop for cruise ship travelers looking for uniquely Alaskan curios, gifts and souvenirs.
| | |
| --- | --- |
| Circa 1900 | Circa 1907 |
| Circa 1909 | Circa 1911 |
| Circa 1913 | Circa 1928 |
| Circa 1934 | Circa 1943 |
| Circa 1954 | Circa 1970 |
| Circa 1980 | Dock Store Today |
| Menswear Building Today | Inside Passage Today |
| Marine & Outdoors Today | Furniture Today |