All orders placed between 10/6 and 10/11 will be held as we are doing end of season inventory, please allow for the extra time when placing your orders.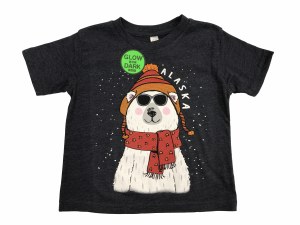 Youth Benjamin Polar Bear Tee - 2T
Item Number: 83998402
$9.99
Product code: 83998402
Denim heather glow-in-the-dark T-shirt featuring a cool polar bear on the front with sun glasses/hat/scarf. "Alaska" in writing along the side of the design. Colors are denim heather/white/pink/red/rust brown/black. 60% Cotton, 40% Polyester.