All orders placed between 10/6 and 10/11 will be held as we are doing end of season inventory, please allow for the extra time when placing your orders.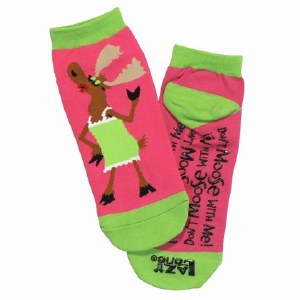 Lazy One Don't Moose With Me Slipper Sock 9-11
Item Number: 834218
$7.99 $4.99 $3.00
Product code: 834218
Pink and green low-cut sock with moose with attitude on the top. "Don't moose with me!" in writing across the bottom. 75% Cotton, 15% Nylon, 10% Spandex.